The Vessels -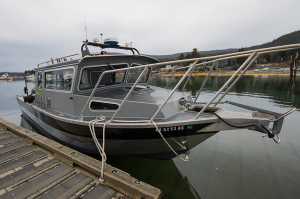 "Lena Claire"
A custom built North River powered by twin Yamaha 225hp motors.
This boat was built to fish, with 10′ of fishing deck in the back it has more room to fish than any boat we have seen in this size class. Keeping with our run fast fish longer philosophy, she cruises at 32 mph to get you to the fishing hole quicker.
Inside the cabin there is a full stand up head, dinette, ample seating, and an Espar 13,000 BTU heater to keep the chill off.

"Sea Hunter"
A custom Alumaweld 29′ Offshore Pilothouse powered by new twin Yamaha 200hp motors. For those that fished in this boat during past seasons, they will barely recognize her, with lots of updates in recent winters, including new more roomy seating, new Espar 13,000 BTU heater, and inside layout.
This boat is a fishing machine, cruising at 32 mph it gives you more fishing time instead of riding time. With a full stand – up head, and with lots of fishing room it is a great all day fishing boat for your next halibut and lingcod trip.
d
d
d
d

"Nunatak"
Nunatak means a rock island surrounded by glacial ice. A rock strong enough not to be moved by the miles of ice pushing on it and that is how this boat is built, solid. Custom made by Bayweld of Homer Alaska who is known for their high-quality boats designed for our harsh Alaska conditions.
With a Wall-Around design this boat was made for charter fishing, giving lots of room to everyone. Offering a full head, Wabsco heater and plenty of storage this boat has made a great addition to our fleet since the 2016 season. It cruises at 32 mph, like all our boats, to give you more fishing time instead of riding time.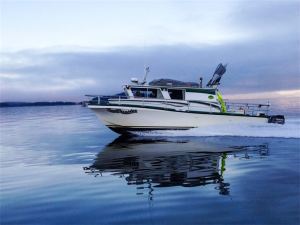 "SeaQuester"
The "SeaQuester" is a beautifully refurbished 36ft FiberCraft, which was recently re-powered with twin 300hp Suzukis. The cabin is well appointed with plenty of seating, heating, enclosed head and galley.
You will not find another six-passenger like her. She has a massive deck for fishing and a large hold for those barn door halibut. Another great feature is the ability to walk around the entire vessel. This is great for taking pictures and fighting fish!
"Sea Duck"
Sea Duck is a 22′ Hewescraft SeaRunner with a heated cabin, full electronics, electric downriggers and more. You would be hard pressed to find a more fixed up 22′ boat. This is our small party boat for groups of 1-4 for transporting or salmon fishing. We have been running this boat for 5 years for silver charters and you will see it leaving multiple times a day because of the full limits caught. If you have a smaller group and want a boat to yourself this is a great option for a great fishing trip.
"Castaway's"
Castaway's is our multi day adventure boat, anything from a kayak adventure to a multi-day fishing expedition. Enjoy being in remote bays surrounded by wildlife and having a dry, warm basecamp for your adventure. Castaway's can sleep 6 clients comfortably in its 3 private staterooms, along with having 2 full heads.
With a full modern kitchen, you will also enjoy some amazing meals while on your hunts, from fresh seafood out of the waters of PWS including spot prawns, halibut and Copper River red salmon to steaks on the barbeque.
In the living area, there is plenty of seating to hang out and relax. Featuring a 32' flat screen TV for watching movies on those days the weather is just a little too crappy to go out for a full day. The whole boat boasts granite counter tops and tables, along with leather couches to hang out in.