Camp Rentals
Wanting to get away from the crowds in town? Go explore Prince William Sound with a water taxi and camp rentals.  We offer full camp setups for shoreline camping or backpack camping.  Our rentals make it easy to get out and explore the wonders of the Chugach National Forest.
Arctic Ovens – 10′ x 10′ with Vestibule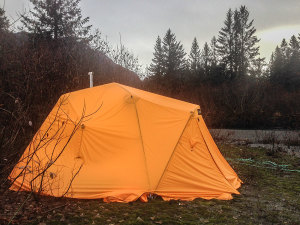 The Arctic oven is the ultimate base camp tent.   It is made right here in Alaska by Alaskans at Alaska Tent & Tarp.  They know what extreme conditions are and made a tent to withstand the conditions.  What was designed as a winter camping tent works amazingly for a 4- season tent in our wet coastal environment.   Turn on that heater at night and dry any wet gear out and have a comfortable place to hang out.
From Alaska Tent and Tarp:
Alaska Tent & Tarp's Arctic Oven tent is the premier cold weather camping tent. It has been in use for years as the elite winter camping tent from the North Pole to the South Pole. Although it can be used as a four season tent, the Arctic Oven tent specializes in winter camping with its condensation-free interior and the option of putting a stove inside for warmth. The Arctic Oven tent is a specialized piece of equipment that redefines the standard of quality, durability, and functional performance.

Alaska Tent & Tarp has combined proven design, superior materials, and quality craftsmanship to create a truly no compromise, all-season tent.
The Arctic Oven 10 with Vestibule is the first model of integrated vestibule in our Arctic Oven line. It provides 26 square feet of additional storage space. With steep side walls, 90 square feet of livable space and a peak of 6'9", you can be assured that there will be plenty of space for you and your gear. Popular among hunters, trappers and outdoor enthusiasts, the Arctic Oven 10 tent is the perfect size for three people in the winter camping months or four to five people during the warmer months, when there is no need for a stove. The Arctic Oven 10 with Vestibule is designed to perform in any condition.
Seasons –  Four-season tent
Sleeps –  Five to six person tent according to industry standards.
If sleeping with cots and a stove, this tent will comfortably sleep three people.
Weight –  56 lbs packed weight including tent and poles
Floor Size –  9'6" x 9'6"
Vestibule Size –  4'0″ x 4'6″
Area –  90 square feet of livable space with steep side walls. Vestibule 26 square feet of storage space.
Peak Height –  6'9" peak
Pack size – 32" tall x 28" wide x 22" deep
What Our Arctic Oven Packages includes:
Basic Setup – $65 a day / $350 a week
10′ x 10′ Arctic Oven – including: poles, ground cloth, floor saver, stacks, and hammer
Nu-Way 3500 Propane Stove – with a full 20 pound propane tank, stove pipe, and stove pan

Full Camp Setup – $80 a day / $450 a week
10′ x 10′ Arctic Oven – including poles, ground cloth, floor saver, stacks, and hammer
Nu-Way 3500 Propane Stove: with a full 20-pound propane tank, stove pipe, and stove pan
Cots & Sleeping Pads: 2-3 depending on your needs.
Primos 2 Burner Propane Stove
7 Piece Cook Set: pots, fry pans, basic cooking utensils
Mess kits: plates and forks
Collapsible Camp Sink
Roll A Table for cooking/hanging out
Lantern
5 Gallon Water Jug and Basecamp Water filter system
Action Packer to put everything in
Hilleberg Tents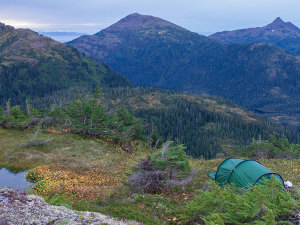 If you are a serious backpacker you know the name Hilleberg well.  These tunnel tents are made to be light weight and roomy at the same time.  They are used around the world for serious back country adventures.  We have two models available for rent.  We also have lots of back country gear if you need more than just a tent.
Call or email for any back-country equipment requests.
Nallo 2 GT
The Nallo 2 GT's salient characteristic may be its light weight, but it is still fully able to handle all season, all weather adventures. This explains why this tent is an ideal choice for those needing the roomiest, lightest tent that still offers all-season, all weather functionality. This includes wilderness photographers, professional climbers, hunters, and other adventurers who must carry large amounts of gear, as well as long distance hikers, who want to get more out of carrying less. Given its remarkably low weight, even solo hikers who want truly palatial quarters can justify taking the Nallo 2 GT. Those who hike with their dogs also love the extra space – and, of course, the very light weight – the Nallo 2 GT has to offer.
Minimum Weight: 2.3 kg/5 lbs 1 oz
Packed Weight: 2.8 kg/6 lbs 3 oz
Inner Height: 100 cm/40 in
Inner Tent Area: 2.4 m2/30.1 ft2
Vestibule Area: 2.2 m2 / 23.7 ft2
Kaitum 2
Remarkable, two door/two vestibule tents offering maximum usable space, outstanding comfort, and excellent strength in lightweight packages.
Because of its two door/two vestibule configuration, its lightweight yet strong materials and its construction, the Kaitum 2 provides a stunning balance of super light weight, overall comfort and high strength. Backpackers gravitate toward the Kaitum 2's light weight and remarkable roominess, as do paddle and bicycle tourers, who also appreciate its small packed size. Hunters, winter campers, ski tourers, and climbers favor the Kaitum 2 because of its all-season strength as well as its low weight. And taller users will find the Kaitum 2's plentiful floor space, vertical entrances, and vertical walls a roomy pleasure.
Minimum Weight: 2.6 kg/5 lbs 11 oz
Packed Weight: 3.1 kg/6 lbs 13 oz
Inner Height: 100 cm/40 in
Inner Tent Area: 2.9 m2/31 ft2
Vestibule Area  :2 x 1.2 m2  / 2 x 13 ft2