Char-Grilled Deer Tenderlion with a Smoky Chipotle Rub and Three-Herb Chimichurri
I love to cook (most days),  but I am in no way original.  I am a good follower of recipes.  Sure, once in a while I'll take a few twists and turns, but I rarely make drastic changes.  Most of my deviations involve swapping out the store-bought meat in a recipe for some sort of game meat.  And adding more cheese.  If a recipe calls for cheese, I usually add more. A lot more.
Anyway, whenever we cook something up that we really like, we want to share it.  It may not be a recipe of our very own, but it's worth sharing.  The recipe we adapted here actually appeared in the July 2006 issue of Bon Appetit, and it suits venison tenderloin very well.  I'm betting the Smoky Chipotle Rub will be delicious on other cuts, and even on other meats, including fish.  I definitely saved the remaining rub in a little jar to put on a nice filet of salmon later this week.  And the leftover Three-Herb Chimichurri?  That's going on some rockfish tacos!
So we begin with the Smoky Chipotle Rub.  Pay close attention, this is a hard one: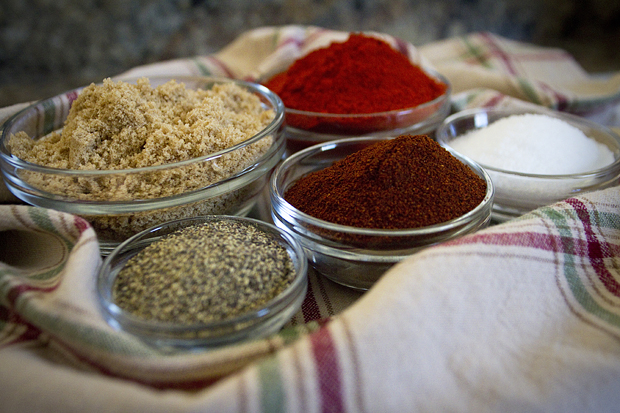 Put brown sugar, sweet smoked paprika, kosher salt, chipotle chile powder, and black pepper in a bowl . . .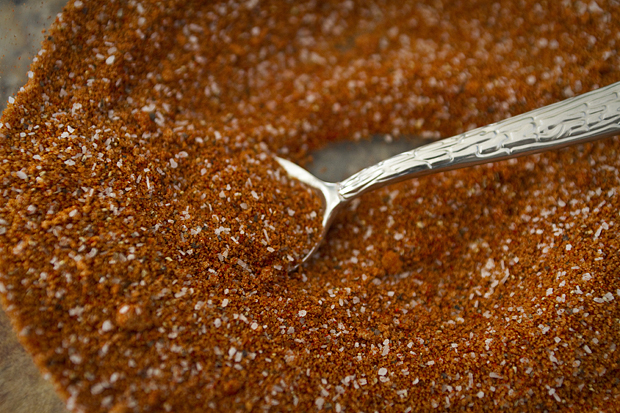 . . . and stir until combined.  Phew.  I wasn't sure if I'd make it through the explanation.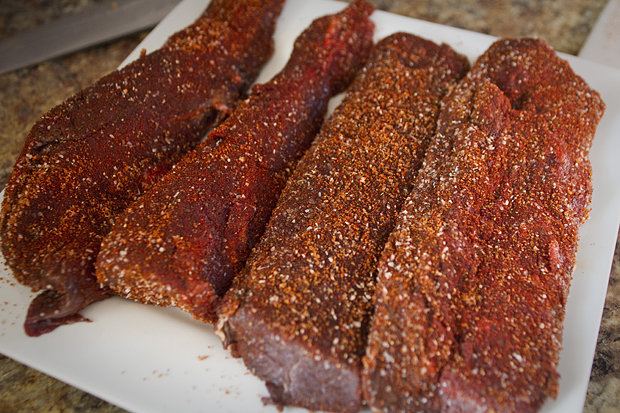 Pat the tenderloins dry with a paper towel, rub with oil, and generously coat with the chipotle rub.  They will already smell awesome.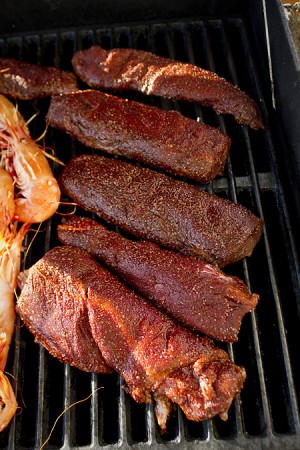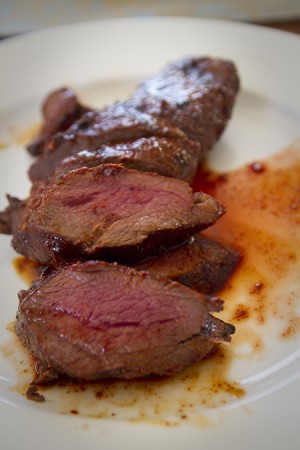 Grill on medium high, and turn to sear.  Small deer tenderloins will be done to medium-rare basically once they are seared all the way around.  Just look at that delectably pink slice of wonderfulness!
Now the chimichurri.  You can make it ahead of time and store it in the fridge until you're ready to serve.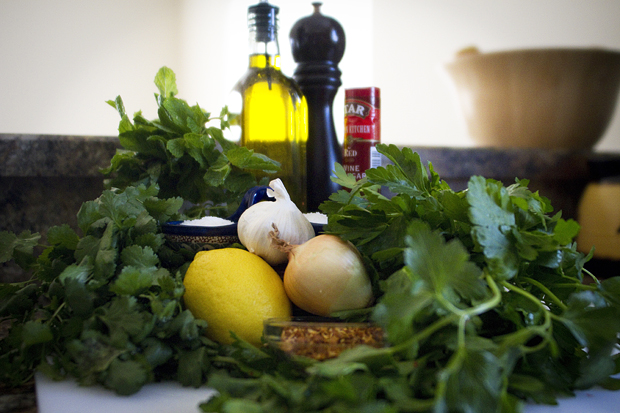 The three herbs in this chimichurri are parsley, cilantro and mint.  The mint is delicious.  If you don't usually cook with mint, especially in savory dishes, be brave and give it a go.  The other players are olive oil, red wine vinegar, fresh lemon juice, garlic, a small onion, salt, pepper and crushed red pepper.  The original recipe called for shallots, but our small town grocery store doesn't always have them stocked, and when they do they cost a fortune.  All I'm saying is the recipe was great with a poor, lowly onion.  Don't worry little onion, I still love you.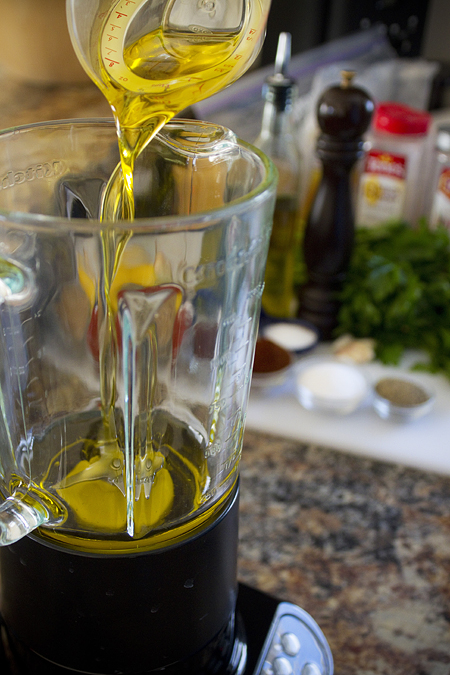 Let's get cooking.  Add olive oil and red wine vinegar to  a blender . . .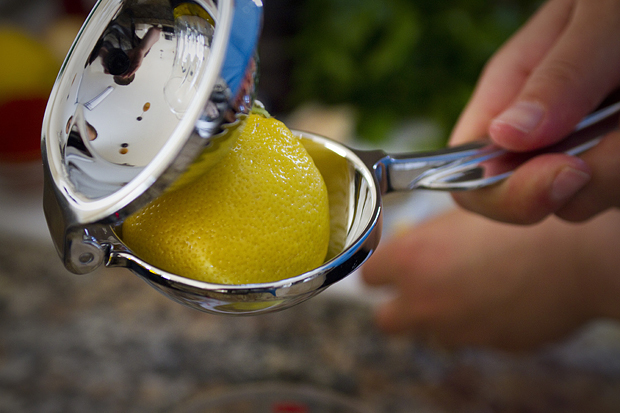 Squeeze in some lemon.  We buy a big bag of lemons and limes at Costco or Sam's Club.  We find that when we cook, we use them all up before they go bad.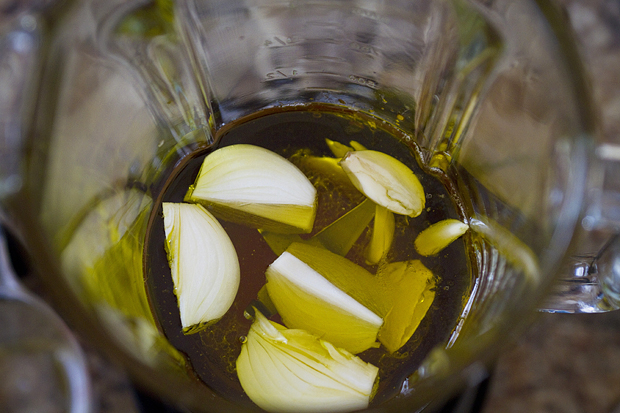 Now add the cloves of garlic, onions (quartered), salt, pepper, and red pepper flakes.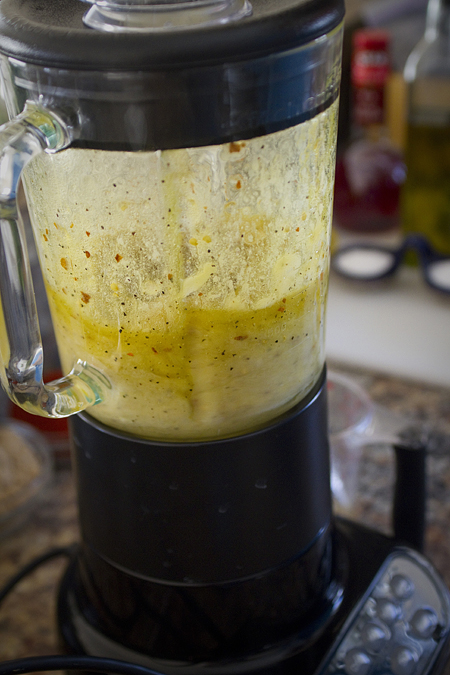 Blend until almost smooth.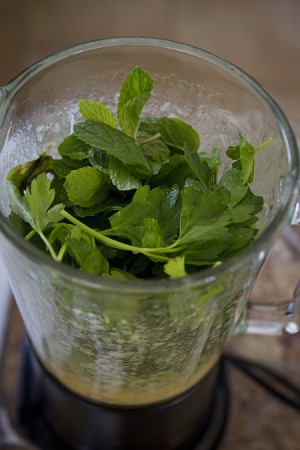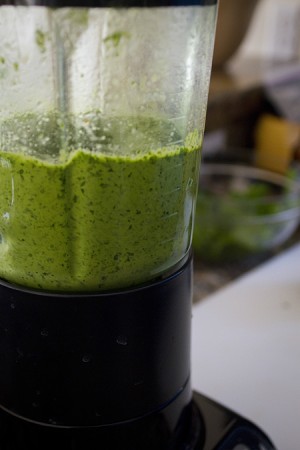 Now add a quarter of the parsley, a quarter of the cilantro, and a quarter of the mint, and puree.  Repeat the process three more times until all the herbs have been incorporated.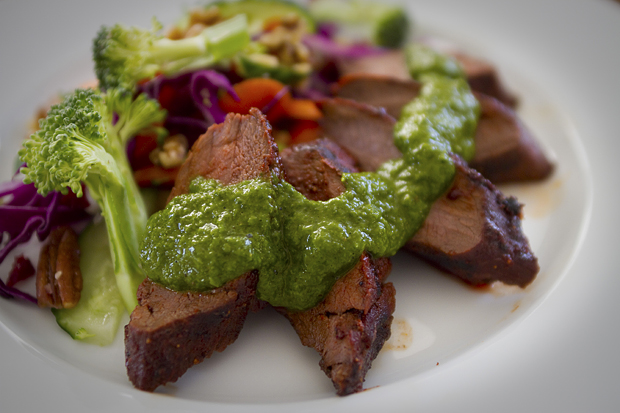 And there you have it.  An absolutely delectable venison tenderloin dish with two added bonuses:
1) leftover Smoky Chipotle Rub to happily season another meal, and
2) leftover Three-Herb Chimichurri to top delicious fish tacos!
Char-Grilled Deer Tenderlion with a Smoky Chipotle Rub and Three-Herb Chimichurri
This recipe is modified from the Char-Grilled Beef Tenderloin with Three-Herb Chimichurri recipe by Elizabeth Karmel that appeared in the July 2006 issue of Bon Appétit.
Ingredients
Smoky Chipotle Rub
2 tablespoons brown sugar
1 tablespoon sweet smoked paprika
1 tablespoon coarse kosher salt
1½ teaspoons chipotle chile powder
1 teaspoon ground black pepper
Three-Herb Chimichurri
¾ cup olive oil
3 tablespoons red wine vinegar
3 tablespoons fresh lemon juice
3 cloves garlic
1 very small onion, peeled, quartered
1 teaspoon kosher salt
½ teaspoon ground black pepper
½ teaspoon dried crushed red pepper
3 cups (packed) stemmed fresh parsley
2 cups (packed) stemmed fresh cilantro
1 cup (packed) stemmed fresh mint
venison tenderloin
2 tablespoons olive oil
Instructions
Smoky Chipotle Rub: Combine all ingredients in a bowl. Store in airtight container at room temperature.
Three-Herb Chimichurri: Combine first 8 ingredients in a blender; blend until almost smooth. Add ¼ of parsley, ¼ of cilantro, and ¼ of mint; blend until incorporated. Add remaining herbs in 3 more additions, pureeing until almost smooth after each addition. Can be made ahead. Cover; chill.
Preheat grill to medium-high. Pat venison dry with paper towels and brush with oil. Rub generously with spice rub, (coating will be thick). Place on grill; sear about 2 minutes on each side. Transfer to platter; cover loosely with foil and let rest 10 minutes. Thinly slice venison crosswise, and serve with chimichurri.