Simple Halibut Olympia
I created this step by step instruction set for simple Halibut Olympia for my mom.  She was planning a big Christmas Eve dinner, and she needed a suggestion for an easy main dish to serve a crowd.  Since I already had it all written up, I figured it would be great to post up on the blog.  Our freezers are chock-full of halibut from the summer, and this recipe always seems to receive rave reviews.
And now, our featured presentation: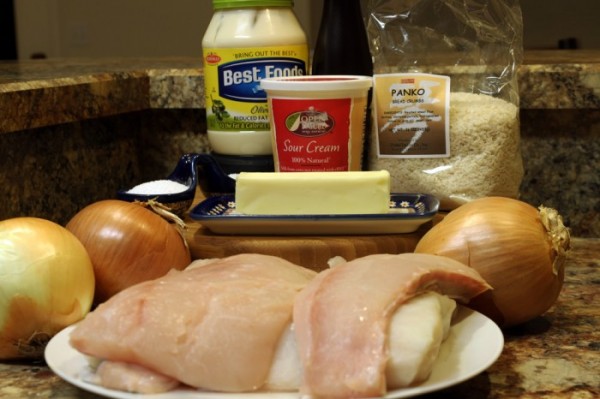 Begin by gathering your ingredients.  For 8 servings, you'll need eight approximately 3″x4″ pieces of halibut, three really big onions (or more if you'd like), a cup of mayo, a cup of sour cream, a cup of panko, parsley, butter, salt, pepper, garlic powder, and olive oil.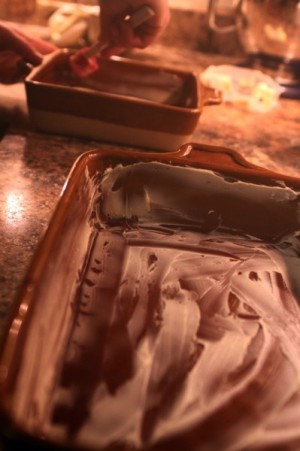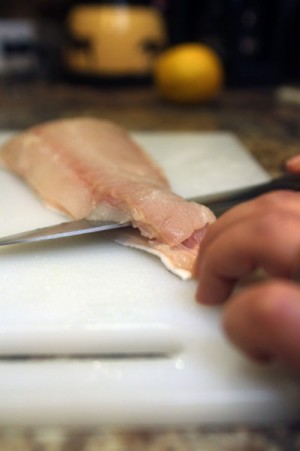 First, begin the prep work by preheating the oven to 375o.  Butter your casserole dish really well.
Next, remove the skin from the halibut filets.  I do this with my normal chef's knife.  Slice down through the meat until you just hit the skin, and then angle your knife about 30o to the cutting board. While firmly hold down the skin, run your knife lightly along the skin with a back and forth motion.  The technique should feel more like scraping the fish off the skin instead of slicing it off.
If it feels like you're starting to cut through the skin, make sure you pull back and restart your cut, and don't push down as hard this time!  Don't be afraid of leaving some fish on the skin, you'll want to trim away all the brown flesh anyway, because those spots are very fishy tasting and tend to turn people off.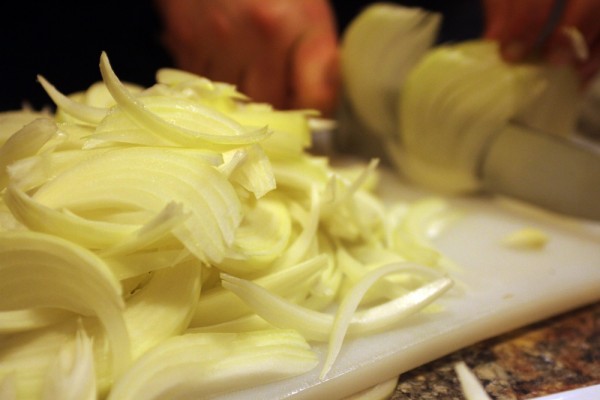 Now peel the onions and slice them into nice, skinny wedges. Make sure you cut from north pole to south pole.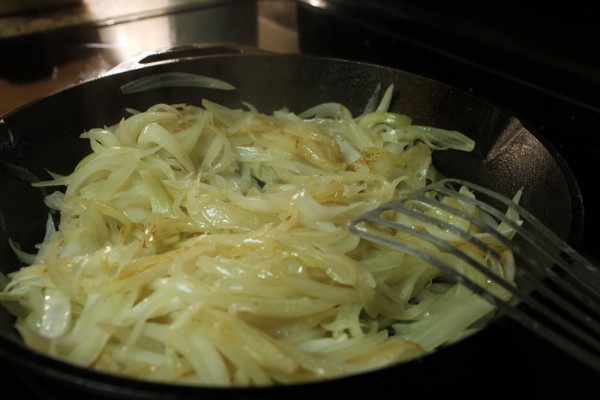 Saute the onions in olive oil for 10-12 minutes, seasoning with salt and pepper.  Cool.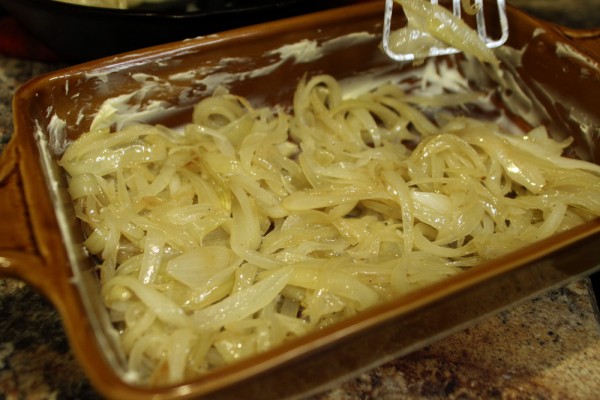 Spread the cooled onions onto the bottom of the buttered casserole dish and place the boneless, skinless halibut pieces on top.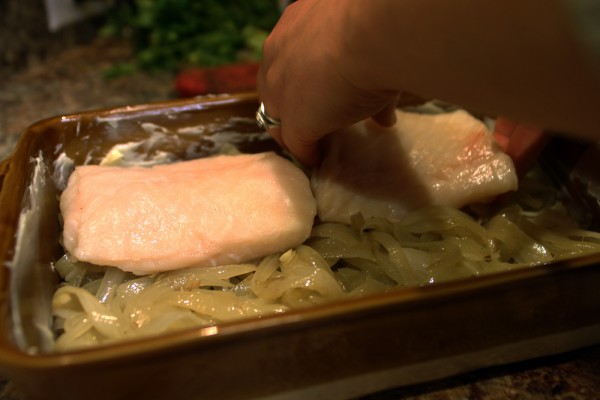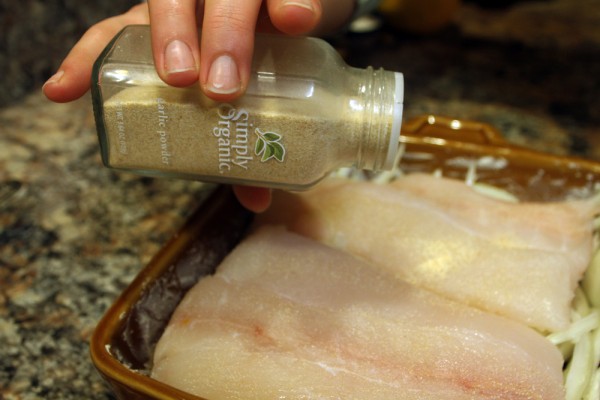 Season the fish with some garlic powder, salt and pepper.  Remember:  halibut is bland.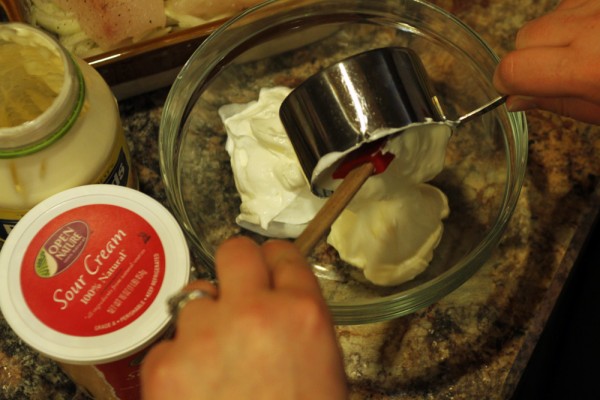 Now mix the sauce.  This is hard, so pay attention:  mix one cup mayo and one cup sour cream.  Did you get that?  Do you need me to repeat it?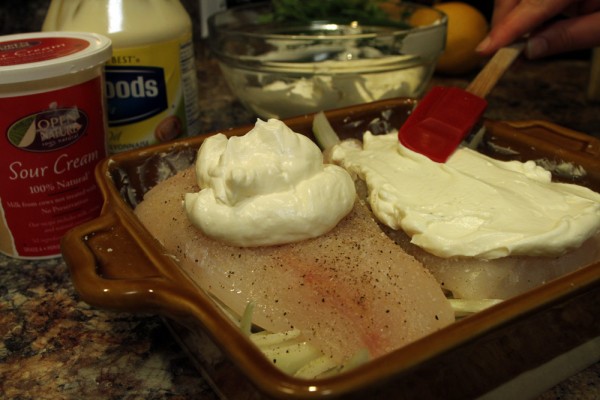 Now spread the mayo mix on the halibut, and lay it on THICK.  It's not the healthiest recipe, but it's tasty!  The thick layer of sauce really helps if you accidentally overcook the halibut, which is very easy to do.  Now we make the topping.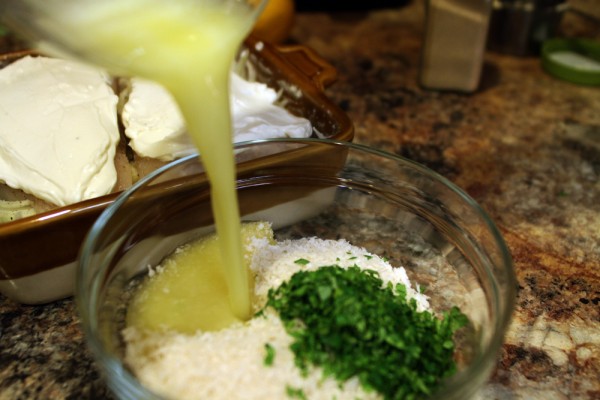 Chop approximately 2 to 3 tablespoons of fresh parsley, add it to about 1 cup of panko breadcrumbs, and pour in 1/4 cup of melted butter. Season it with salt and pepper and stir it up! This is your beautiful, crunchy topping for the halibut.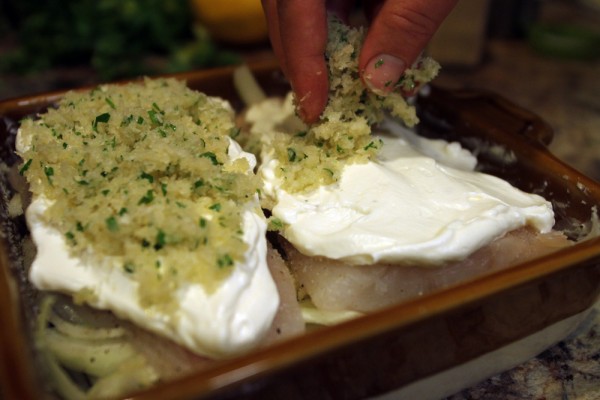 Spread the panko mix liberally on top of each piece of halibut.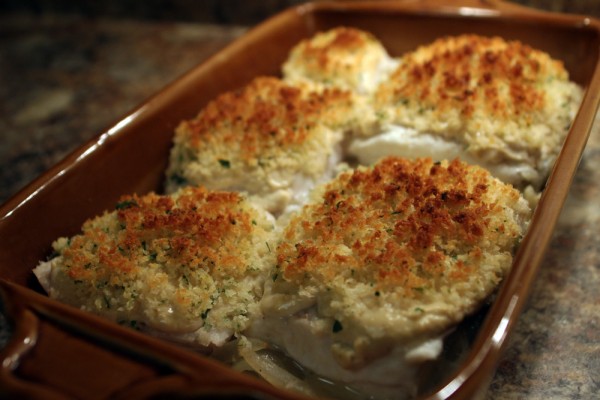 Now stick the dish into a 375o oven, and bake for 25-35 minutes. It's hard to tell when it's done so sometimes I take a fork and gently flake one open in the middle to check, and then I patch it up with the sauce and crumbs. If the topping isn't sufficiently toasted when the fish is done, just broil it to perfection.  WATCH IT–DON'T WALK AWAY!!!  and VIOLA! Halibut perfection!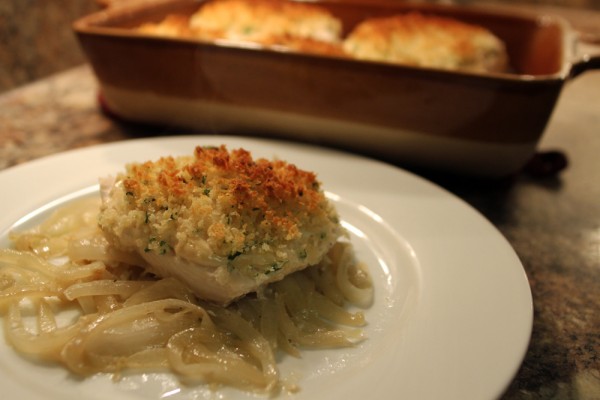 Serve immediately to preserve the crunchy wonderfulness of the panko topping.
Simple Halibut Olympia
Prep time:
Cook time:
Total time:
Ingredients
3 tablespoons olive oil
3 large julienned yellow onions
Salt
Fresh ground black pepper
1 cup mayonnaise
1 cup sour cream
8 pieces(3″x4″) boneless and skinless halibut fillets
Garlic powder
1 cup panko bread crumbs
¼ cup (1/2 stick) unsalted butter, melted
2 tablespoon chopped fresh parsley
Instructions
In a medium sauté pan, heat the olive oil over medium heat. Add the onion and cook just until it's translucent, 8 to 10 minutes, stirring frequently. Season with a pinch each of salt and pepper. Set aside to cool completely.
Heat the oven to 375 degrees. Butter the bottom of a 12-inch by 8-inch casserole and cover evenly with the onion.
In a small bowl, combine the mayonnaise and sour cream.
Place the halibut fillets on top of the onion, and season with a sprinkling of garlic powder, salt and pepper. Spread tops of halibut with a thick layer of the mayonnaise mixture.
In a medium bowl, mix together the panko bread crumbs, butter and parsley, and season with one-eighth teaspoon salt and a pinch of pepper. Sprinkle the topping over the mayonnaise. Put the casserole in the oven and bake until the topping is golden and bubbles slightly, about 25-35 minutes. Broil topping if necessary. Serve immediately.