Columbia Glacier Tours – Glacier, Sea Lions and Whale
Come join us on an 8-hour Columbia Glacier Tours excursion to Columbia Glacier and navigate around Glacier Island.
As Columbia Glacier floats up and down with the tide, it cavs and creates a seemingly endless path of huge icebergs. Enjoy a ride through this floating ice field observing the wildlife that uses this habitat as their home. Some of the wildlife viewed on this tour are sea otters, sea lions, seals, orcas, humpback whales, Dall porpoises, puffins, eagles, along with many more possible birds and mammals.
During the Columbia Glacier Tours you will learn about a natural history of the area from your local captain.  Learn about how the glacier formed huge moraines and is now rapidly receding and what is changing in the landscape. Along with the natural history, learn about the early explorers of the region, the history of gold rush and about how the Columbia Glacier influenced the Exxon Oil spill.
The Columbia Glacier is located 30 miles from Valdez, about an hour boat ride, and is the largest tide water glacier in Prince William Sound, encompassing over 400 square miles. Enjoy a comfortable and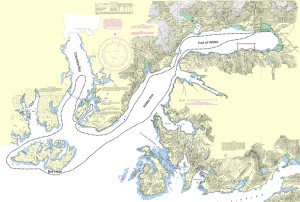 personal 8-hour Columbia Glacier Tours on our 30′ boat with only 6 passengers.  We will even stop midway through the cruise and collect small icebergs, called growlers, and chip ice cubes for your drinks. There is nothing better than a 10,000-year-old piece of ice in your drink!
Because we only take 6 passengers on our tours we can take the extra time the group may want at one location. Want to stay at the sea lion haul out a little longer? No problem. Want to watch the orcas until we can't see them anymore? No problem. We have key areas we want to bring you to enjoy the natural beauty of Prince William Sound, but we want you to enjoy your personal cruise.
Contact Us today to book your personal Columbia Glacier Tours and Glacier Island Tours.
Cost: $1050 for whole boat, up to 6 people.
Tour Departs 8:00am and returns at 5:00pm