About Valdez Outfitters
Thanks for your interest in Valdez Outfitters!
We are a locally owned and operated company in Valdez, Alaska. We live free and play hard here in Prince William Sound all year round.
We are a family owned and operated business ran by Tim Bouchard with endless help from his wife Diana. All our captains have years of experience in Prince William Sound and love what they do and do it full-time. We run multiple boats, depending on the adventure you seek.
This is our life, so call us and we can help you plan your next adventure. If it has anything to do with Prince William Sound, and we can't help you ourselves, we know someone who can and we would be happy to direct you to them.
Our Crew -
Captain/Owner Tim Bouchard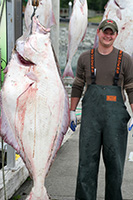 A 4,500 mile road trip across North America landed Tim and Diana in Alaska from East Coast back in 2003.  Tim has fished and guided fisherman across the state, from interior Alaska pike fishing trips to coastal waters catching barn door halibut.  Diana and he now operate Valdez Outfitters on the coastal waters of south central Alaska.
Being a licensed captain since 2004 and having explored Prince William Sound for 15 years he has the local knowledge to get people on the fish.  Along with boat experience Tim has a degree in Biology and Geology which he draws from to strive to find big fish every day for their clients. Tim is also an accomplished professional nature photographer who's been published in books, magazines, tour guides, postcards and posters across the country.
From the start of the company with a single 22' boat they have now grown to 6 vessels, making sure all his captains are highly trained professional with the same drive he has for great fishing.  His company won the 2016 Halibut derby in Valdez and put up another 6 weekly fish on the derby board.
Tim and his company have been featured on both Alaska Outdoors TV and Larry Csonka's North to Alaska TV show on multiple occasions.  We have also been featured in Alaska Sporting Journal for the great fishing in Valdez.f
Captain Brian Rhodes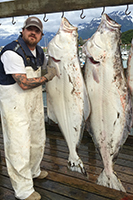 Captain Brian Rhodes is a character we are proud to have in our lineup. Captain Brian is going on his forth fishing season with us, you can find him aboard the "Lena Claire" most days. He has worked with us in PWS for 12 years and knows the area like the back of his hand. Captain Brian is also an extremely gifted and accomplished photographer.
 f
f
Captain Brad Russell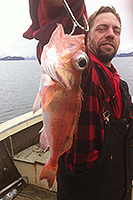 Captain Brad Russell has lived in Valdez most of his life and has great knowledge of the waters and fishing. Going on his third fishing season with us you will find him aboard the "Sea Hunter" most everyday in the summer. Brad produced some great fish last season and can't wait until to see what he brings to the dock this year.
 f
f
f
Captain Wesley Young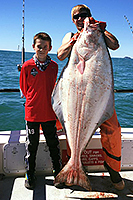 Wesley is one of our new captains for the 2017 season, but he is not new to Alaska or to Valdez.  He has run the "Sea Quester" for the last three seasons here in Valdez and will continue running it this season for us.  Wesley grew up in Alaska and exploring Prince William Sound with his family and is very knowledgeable of the local area.  We are excited to have him on board this coming season.
Captain Dave West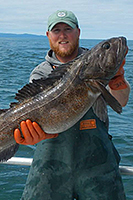 This is Dave's first season with Valdez Outfitters.  The last two years you could find Dave working in Homer commercial fishing salmon and working on halibut charters.  Before that he was here in Valdez working on the Sea Quester catching halibut and ling cod out of the Gulf.  We are excited to have Dave on the team this year and you will be finding him running the "Nunatak" most days.
 f
Captain Chris Steiger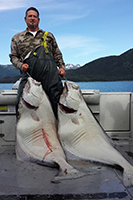 Captain Chris Steiger has fished Valdez for the last 8 years. Chris is concentrating on Salmon fishing this season.  You will find him on the Danger Zone this August slaying silvers.
f
f
f
f