Alaska Filming & Scientific Logistics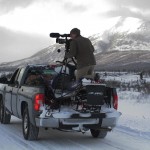 Alaska is truly a photographer's dream, and it really does not get any better than Prince William Sound! The plethora of wildlife combined with the glaciated coastal fjords truly create some epic photography and videography opportunities. We realize the unique opportunities available here, and over the years we have helped amateurs, professionals, and production companies all capture incredible footage from this corner of the globe!
Valdez is a great jumping off location for Prince William Sound photography and filming projects.  Not only do we have glaciers, amazing mountain vistas and wildlife,  they are all within a reasonable distance for daily shoots and back to comfortable hotels and dinning. Valdez has all the facilities needed for a large production, from 5 hotels to choose from and many dining options to equipment rentals.  Let us help you plan your next Alaska production and make Prince William Sound the location.
We can customize just about any type  and length of trip you wish to have for your production.  We have over a combined 40 years of experience in the sound.  We have a fleet of boats for assistance, and a vast knowledge of when, where, & how to find the best photo subjects available.  We don't only operate in the summer months like many outfits, we are ready to go with equipment year-round.
Let us show you what the real Alaska is all about in our favorite place on earth – our own backyard!
Safety
Your production crew's safety is our number one concern.  We are dealing with remote locations and depending on the season/location of your project there are many natural hazards of filming in the wilds of Alaska.  We contract Bear Safety Experts, Certified Wilderness First Aid Personal, USCG Licensed Captains, US Certified Avalanche II Experts, Personal Trained in Rock Climbing and Glacier Travel, and Certified Rescue Divers.  We live and work in the wilds of Alaska every day, we know how to keep your crew safe with getting the best possible footage.
Locations Finder
Why pay for a full production crew and talent to go to a remote location without first knowing the best location for your project?  We spend all year out in Prince William Sound and have visited countless locations, from glacier landscapes to wildlife hot spots, and we can help you find the perfect location.
Use our location finding services to receive images of possible locations based on your production needs.  We send professional photographers out in the field to find the best location and supply you with images of possible location options so you know what to expect.  Not good enough?  We can also bring your production manager out to all the possible locations before your whole crew and talent show up.  Contact Us today to talk about your project and your location needs.
Land Use Permits
We can also help assist you with all the permitting needs in Prince William Sound for commercial filming.  We have experience and relationships with the City of Valdez, National Forest Service, Alaska State Parks, Alaska DNR, Tatitlek Native Corporation, and the Chenega Native Corporation.  The sound has endless possibilities in locations let us help you find the perfect one along with getting permitting for use of the locatio
Let us know if you have questions that we can help with.