Valdez Alaska, Halibut Fishing!

Our day trips for halibut are an angler's dream and on many angler's bucket list when visiting Alaska. Valdez halibut fishing does not only have the possibility of hooking into world-class halibut, but also huge trophy ling cod and rock fish.
Valdez is known for large halibut! Derby winners tip the scales at almost 300 lbs each year!  Not everyone will catch the derby winner though, the average fish comes in around 25 pounds, but a large portion are 50 pounds and over. Also, it is not uncommon to come home with multiple fish tipping the scales at 100 pounds. Our day trips are a full day adventure, leaving at 6:00 am and returning at 6:00 pm.
Valdez halibut fishing is unique because of the tours that go along with the trip. Most fishing takes place 70-100 miles from Valdez, on the way you can expect to see whales, porpoise, sea lions, seals, bears, eagles, and many other species of birds.  To top off an amazing trip it all takes place in the natural beauty of Prince William Sound, with hanging glaciers on the mountain sides and seemingly endless waterfalls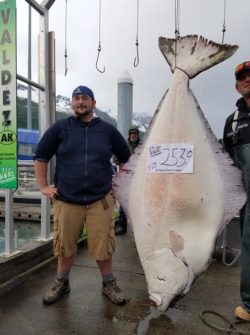 Our Fishing Style
We are not a set the anchor and sit for 8 hours kind of charter, our goal is to catch fish. Our day is scheduled by what the tide is doing that day and where the fish were hitting the days before. During a good moving tide we may sit on anchor for 4 hours in what many consider the traditional way to fish halibut, create a scent trail and let the fish come to you. Not a bad way to fish, but not always the best way to fish. When some charters are "waiting" for the tide to change we are off drift fishing structure and catching fish all day. This not only produces big halibut but also ling cod and rock fish.
Our goal is not to catch everyone's halibut and head home early. Our goal is to catch big fish and multiple species.  We don't leave the fishing hole after just catching halibut, we always also have the goal to catch ling cod (after July 1), yellow eye and black bass.
<<< 2016 Valdez Halibut Derby Winner. Caught with Valdez Outfitters on the Nunatak by David Jamison of Fairbanks.
 Our Sponsors

2018 SummerCharter Prices

May 10 – June 30: $330 – halibut & rockfish trip
July 1 – Sept. 3: $385 – halibut & lingcod & rockfish trip

All four of our boats "Lena Claire", "Sea Hunter", "SeaQuester" and "Nunatak" fish 6 people daily.
We depart the slip at 6:00 a.m. Please be at the boat at 5:45 a.m.  We will be back around 6pm.
You will need to have your fishing license (can be purchased at our office) with your derby ticket (can be purchased at our office).
Call or Book online for your trip!!!
What do you need to bring on a day trip?
- Fishing License (You can purchase at our office)
– Warm Clothing, Rain gear, Water-Proof Boots recommended, but not required (Like Extra-Tuffs)
– Drinks, Snacks and Lunch
– Camera and film
– Prescription Medicines / Sea Sick Medication
– Alcoholic Drinks if desired
New For 2017 – Overnight Fishing Charter
Overnight Charter : $4,400 for the boat, up to 6 people.
Enjoy the comforts of SeaQuester on an overnight fishing charter for up to 6 of your buddies.  You will motor out of the harbor at 8am and return from your trip the next day around 4:00pm.   We will cook a fresh fish dinner while you are out there!  You just need to bring lunch/snacks and drinks with you.  This is  a great way to get two days catch on one trip and get more fishing time in trying to catch that big one.
Call or Book online for your trip!!!
Fishing Cleaning & Processing
We will schedule a Professional Fish Cutter to meet us at the dock after your day of fishing, they charge $1-$5 per
fish depending on size/species.  It is worth every penny!  After your fish is cut you can use a cart to bring it just down the street to Fish Central for Vacuum Sealing and Flash Freezing to get the most out of your great catch.  They even ship FedEx if you need it mailed home.
Cancellation Policy: Customers will receive a full refund if notice of cancellation is more than 14 days before the scheduled trip. If less than 14 days you forfeit a $100 deposit fee, and if less than 5 days you will be charged full price.  If we can re-book your seats within the 5 day window you will get a full refund.  Exceptions may be made on a case by case basis. Contact us by phone to cancel or inquire about a cancellation.
Weather Days or Mechanical Issues: We refund 100% of your charter if we must cancel due to weather or mechanical issues.
Team Pautzke Fishing Ling Cod and Rockfish with Valdez Outfitters -