Winter Tours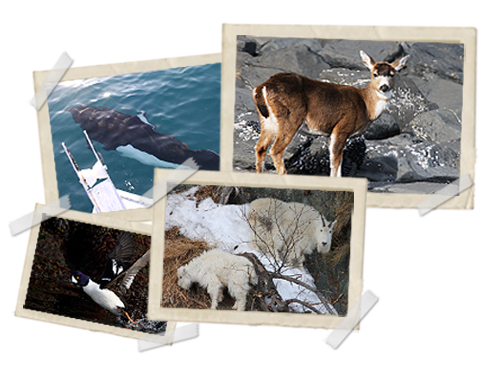 We are offering unique Valdez Alaska Winter Tours! It's a great way to see the wildlife and amazing ocean views around Port Valdez. Join us to visit the wildlife hot spots of the winter months. We will:
- Explore the picturesque shorelines and mountainsides for Mountain Goats, Sitka Black Tail Deer, and other small mammals and shorebirds, including Oystercatchers and Rock Sandpipers at the ends of their migrations.
- Visit the buoys to see if the Sea Lions are sunning, and scan ice floes for Harbor Seals.
- Cruise with Dall Porpoises playing in our wake, while passing lazy Sea Otters floating on their backs munching on their foraged finds.
- View a variety of sea ducks and other seafaring feathered friends. The assortment includes Harlequin Ducks, Barrow's and Common Goldeneye, Surf Scoter, Long-tailed Ducks, Red-breasted and Common Mergansers, Cormorants, Murres, Murrelets, and more!
We have our boats in the water and ready to take you on an ocean adventure!
For our adventures we use "Lena Claire" our 30′ aluminum hulled North River, equipped with a heated cabin and head, which allows us to get closer to shore and deep into the back bays to optimally view wildlife. We can accommodate groups of 2-6 people for a memorable tour.
 – Half-Day Adventures  -
Take a tour from Port Valdez to Shoup Glacier Bay, and then the Valdez Narrows to Sawmill Bay and back.  You will see and learn about historic locations from the rich gold mining days of Valdez and about the general history of the area from your captain.  Observe sea otters, seals, Dall porpoises, mountain goats and possible orca and humpback whales.
Cost:  $175 per person, 2-person minimum
Times 8:00am – 12:oopm & 1:00pm – 5:00pm  – Call for custom times.
- Full-Day Adventures  -
Come join us for a full 8-hour tour on the water and explore from Port Valdez out to Columbia Glacier and Glacier Island.  Check out the sea lion haul out and the largest tide water glacier in Prince William Sound.
Learn More >>
Cost:  $1050 for the whole boat, up to 6 people allowed
Departs 8:00am and returns at 4:00pm – Call for custom times.
- Half-Day Fishing  -
Try your hand at catching a winter king and rock fish for half a day this winter.   Troll for a couple of hours for a winter kings and then stop and do some jigging for rock fish.  Even bring your catch back to the dock and have the Fat Mermaid cook it up for you for $25 a plate.
Cost:  $200 per person, 2 person minimum
Times 8:00am – 12:oopm & 1:00pm – 5:00pm  – Call for custom times.
- Halibut Fishing  -
Head out to the Gulf of Alaska in our comfortable 30′ boat to fish for halibut and rock fish.  All equipment and bait is supplied, you just need a one-day fishing license.  Call or email us about this trip to learn more.
Cost:  $1600 for the whole boat, up to 6 people allowed
Call for availability.