Custom Halibut Fishing Rigs
At Valdez Outfitters we have been making our own custom halibut tackle for years.  We have been using and testing them on our personal fishing trips and all of our charters.  Now, after years of people asking us for them we are offering them for sale online.  We have a few standard models we use every day on our trips in stock and ready for purchase, but we are also open to making a custom rigs for you to your specs.  Just email or call us and tell us what you want made.
Call or Email To Order…
About Our Tackle
Everything on our halibut tackle we do on purpose to make a high quality product.  We are not making these rigs to sell thousands of them, I want you to be able to catch the derby winner on these tomorrow or in two years if they are treated well.  Our tackle is meant to last and catch big fish.
Leader -
First thing you will notice is the black leader material, it is 400lb mono that will hold up to the biggest fish and last years of use.   Why black?  Because it is cool and no one else uses it.
Slider -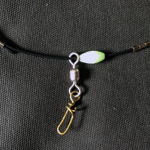 Next you will notice our custom 4″ slider at the top of the rig.  Why a slider at all?  One reason for a slider is to stop the loose of weights.  We all know lead is expensive these days and when you attach the weight directly to your rod's corkscrew they can come off while fighting a fish.  With the slider, it allows the weight to move more during the fight and stops the loss of weights.
Secondly they give some action on those calm days that the boat is not moving and your rod is in a rod holder.  The slightest movement helps the bait move around, even someone walking in to use the head.  But with only a 4″ slider you still see the smallest nibble on your bait compared to the common longer sliders that really hide some of the small hits you get.
Terminal Gear -
We use the highest quality Rosco barrel swivels and corkscrews that are made here in the USA.
Thimbles -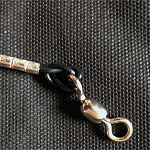 What are thimbles?  They are the small plastic pieces you see near the barrel swivel on most commercial produced halibut rigs.  You will notice on all our rigs we make loops of double mono at our swivel and hook ends.  Why don't we use thimbles?
We take the extra time to make loops for a reason.  Thimbles are cheap and speed up the process of making a rig, but a few twists in the line and then a crimp makes it a lot stronger.  The crimp on a halibut rig is normally the weakest spot, most manufactures don't want to over crimp and damage line.  So often lighter crimp is better, but then slippage can happen.  What we are doing is tying a knot in the line and then crimping to hold the end of the knot.  If that crimp were to slip because of a huge fish then the line tightens down and creates a strong knot and you still reel in that huge halibut.  People argue that it is rare for a crimp to slip, and that is true, but this is just one more step to make sure you get your fish to the boat.
Halibut Hoochy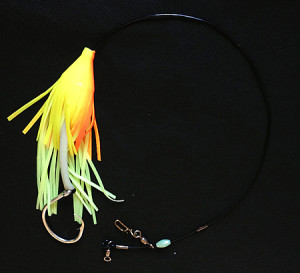 This is our charter favorite.  Most days adding some movement onto your bait is a huge help and you catch more halibut and a lot of the time bigger halibut.  The big bait, big fish idea works here.   We use high quality Delta Hoochies on our rigs.  These come in a few different double colors, with the under layer glowing.  I always have all these colors ready to fish, some days they just seem to be keyed into a certain color.  We rig them with glow tubing under the hoochy, this does two things.  One it keeps your hoochy up off the hook for more hook ups.  Secondly it protects your mono from the sharp teeth of the halibut incase they really swallow the hook.
We have 3 standard color options and 3 hook sizes available.  For more options please contact us.

Yellow/Orange Glow
$17.95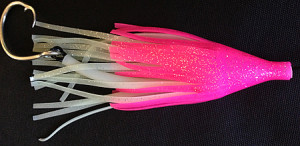 Pink Glow
$17.95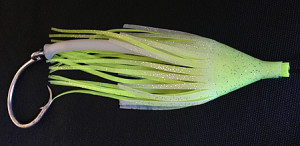 Yellow Glow
$17.95
Simplistic
Some days halibut are picky and just want a plain chunk of herring or squid and nothing else.  Every hoochy, spin and glow, or squid body seems to turn them off and they won't bite.  These plain circle hook rigs are for those days.  Still all custom made and great quality.  Comes with our custom 4″ slider, glow bead, glow tubing and your choice of circle hook size.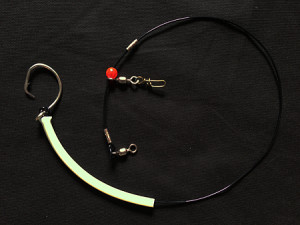 Simplistic
$12.95